Cain said to the Lord, "My punishment is greater than I can bear. Behold, you have driven me today away from the ground, and from your face I shall be hidden. I shall be a fugitive and a wanderer on the earth, and whoever finds me will kill me." Then the Lord said to him, "Not so! If anyone kills Cain, vengeance shall be taken on him sevenfold." And the Lord put a mark on Cain, lest any who found him should attack him. Then Cain went away from the presence of the Lord.

Genesis 4:13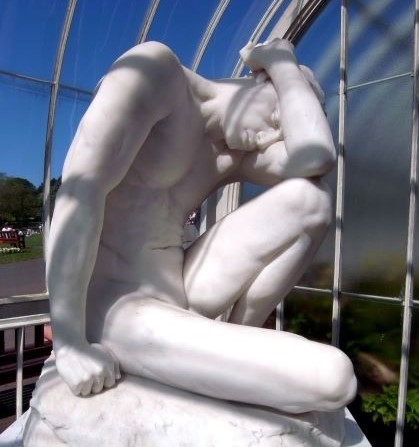 The word "mark" is אוֹת, pronounced "oat", which means 'sign'. It is the same word used in "the sign of the covenant" for both the rainbow and circumcision. But no one has any idea what it is in the case of Cain. Some have speculated it is a mark on his forehead or hand, or a darker skin tone. Regardless, people saw the sign and knew not to hurt him, even if they despised him for killing his brother. It both stigmatized and protected him.
How could a sign have such contradictory properties? Because from Cain's perspective, he would never have to know why people looked at him askance. He could actually forget his sin, and assume others were just distracted by the stigma. He could be forgiven, and did not have to live in perpetual fear, even if his stinginess continued to unexpectedly get the better of him.
Cain's descendant 7 generations later, Lamech, actually turned the stigma into a sign of pride and power:
Lamech said to his wives:

"I have killed a man for wounding me,
and a young man for striking me.
If Cain's revenge is sevenfold,
then Lamech's is seventy-sevenfold."

Genesis 4:23
Perhaps by then the people had forgotten Cain's 'original sin'. Now Lamech could instigate people to attack him and retaliate with great force and impunity. In subsequent generations, Joseph's brothers would claim he had been killed by a wild beast, and several generations after that, Moses would blame 'Amalek' for massacres against us. The stigma was now a weapon, and some of us were more useful as a statistic.
Like Lamech, Zionists today instigate their neighbors to violence, and then respond with disproportionate destruction. This is why Netanyahu and the fascists will be re-elected: because Zionists need to be hated and despised. It serves the dual purpose of inciting violence by Palestinians as a pretext to retaliate against them, and to distract from their 'original sin' of causing the Holocaust. They can say to themselves, "They don't despise us for our complicity in the deaths our brothers, they hate us simply because we are Jews." Like their ancestor Cain, they don't have to feel responsible, and they don't have to know the real reason. They never have to bear the punishment.
However in order to assuage their guilt and shame, Zionists must continually commit new atrocities to create plausible deniability from previous ones. It is a vicious cycle. The IDF shoots kids for 'throwing stones' and for no reason at all. A Palestinian father of a dead young man laments: "The soldier who killed him, what is he telling his wife? Is he happy?" The answer can be found in Lamech's vow.
Cain killed Abel out of jealousy of his brother's success:
And the Lord had regard for Abel and his offering, but for Cain and his offering he had no regard. So Cain was very angry, and his face fell. The Lord said to Cain, "Why are you angry, and why has your face fallen? If you do well, will you not be accepted? And if you do not do well, sin is crouching at the door."

Genesis 4:4
Similarly, Jews from Brooklyn, jealous of the success of their prosperous and generous Jewish brothers in the USA, fly to Israel to move into settlements to find their joy in oppressing Palestinians. Instigation 'crouches' in every direction, even if it seems completely unintentional. They ally with right wing autocrats across Europe to instigate strife, and fascists around the world to make people hate us. They decry the rise of 'antisemitism' in the USA by wild beasts like Alice Walker and Angela Davis. Then when their targets retaliate in petty and pathetic ways, they cry 'antisemitism' and claim that all Jews are now at risk. And if we don't embrace their delusion that we must retaliate with overwhelming force, they forsake us. If we in the diaspora are slaughtered again, we have only ourselves to blame. Like Cain, they are not their brothers' keeper.
Socialist Jews also suffer the same complex. Driven insane by jealousy of their prosperous capitalist brothers, they now must be despised so that they can both deny their complicity in the Holocaust and make our host population hate us and want to kill us. Young Jews from IfNotNow block traffic on 7th Avenue and link arms to prevent access to a large office building in the city. Angry residents then retaliate against conspicuous Jews in the city, so they can beseech me: "Join our Bund/Worker's Collective/Bernie Circle, and we will protect you from the 'antisemites.'"
The target of both Zionist and Socialist Jews are the centrist, Torah-loving, liberal Jews. We are valuable to them only as a statistic, which after getting us killed they can point to and say, "This is why you must give us more power." Host governments are all too happy to comply. The stigma has transformed from blame to sympathy. Like Cain, it protected them when G_d was not with them. But its power is waning. We will soon face a reckoning for the enormity of our sin.
And the Lord said, "What have you done? The voice of your brother's blood cries to me from the ground."

Genesis 4:10